Updated By: LatestGKGS Desk
President present Indira Gandhi NSS awards 2015-2016 at New Delhi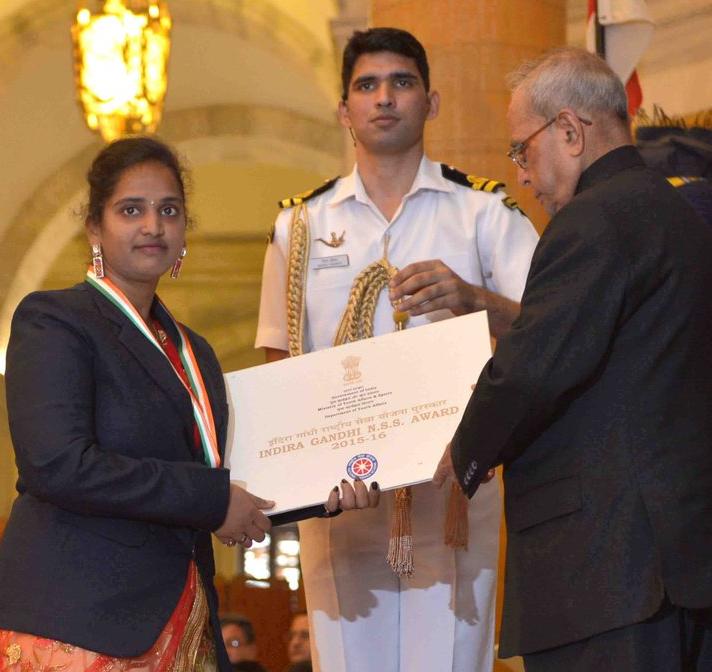 President of India presents Indira Gandhi National Service Scheme awards 2015-2016 in Rashtrapati Bhawan New Delhi
Indira Gandhi National Service Scheme awards is presented to the programme officers, programme coordinators and volunteers who conducted various tree plantation and blood camps.
Indira Gandhi NSS awards 2015-2016 presented to programme officers, programme officers and volunteers of NSS
Indira Gandhi NSS (National Service Scheme) Awards 2015-16 winners
Dr.K. Kalachannegowda and Dr. Fazile E are awarded for a programme coordinator in NSS and they conducted various tree plantation programmes and blood donation camps.
Mr.S Srinivasan, Smt. Sujata Pattanayak, Dr. Zoramdinthara, Dr. Jai M Paul, Mr.Kurlapati Benjamin Victor, Dr.Vidyawati Agarwala and Dr. Shivraj Chandrakant Bokade were other programme officers who were awarded by President of India Pranab Mukherjee.
The other programme coordinator were Dr.Bhaurao Daydar, Prof. M.L.S Deva Kumar, Prof. Mahadev N. Talawar, Dr. Neeraj Silawat and Dr. Sarvasiddi Hawanath.
Latest Pranab Mukherjee Updates