Updated By: LatestGKGS Desk
Arecanut or Betel Nuts Gets its first GI tag for 'Sirsi Supari' of Karnataka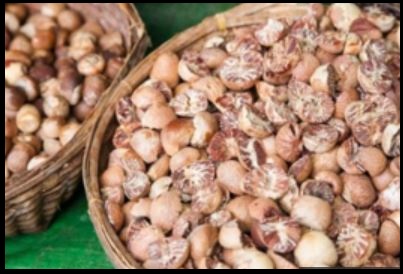 Arecanut or Betel Nuts Gets its first GI tag for 'Sirsi Supari' of Karnataka: Details, Features, Highlights
Arecanut, known as supari or betel nut, made its entry in the list of agricultural produce for the first time with the Geographical Indication (GI) tag for 'Sirsi Supari'.

The 'Sirsi Supari' is grown in Sirsi, Siddpaur and Yellapur taluks of Uttara Kannada district in Karnataka. The annual production of 'Sirsi Supari' is estimated to be around 40,000 tonnes.
The GI tag will guarantee the authenticity of arecanut grown in these taluks, and ensure a better market.
Sirsi Supari is a medium-sized, round in shape and has ash colored hard seed.
The fruit of Sirsi Supari turns from yellow to red upon ripening. The fruit consists of a thick fibrous husk that encloses this seed.
Geographical Indication (GI)
GI tag is name or sign used on certain products which correspond to specific geographical location or origin.
GI Tag is used for agricultural, natural and manufactured goods have a special quality and established a reputation. The goods and products having a tag are recognized for their origin, quality, and reputation and gives it required edge in the global market. It also ensures that none can use their name, giving them exclusivity.
The registration of GI is valid for 10 years after which it needs to be renewed. Violation of GI tags is a punishable offense under the law. The purpose of the GI tag enables stakeholders to authenticate their production while earning a premium and derive an improved livelihood.