SPACE X TO LAUNCH NASA'S ASTEROID-SMASHING MISSION IN JUNE 2021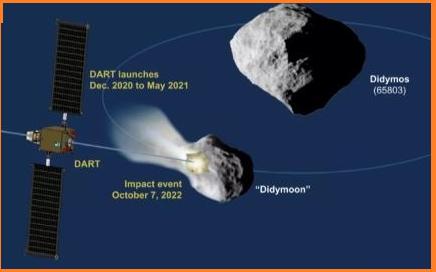 SPACE X TO LAUNCH NASA'S ASTEROID-SMASHING MISSION IN JUNE 2021: Details, Aim, Significance, Highlights
NASA is planning to test a new way to defend Earth from asteroid strikes. It has given SpaceX a contract as part of a plan to knock an asteroid dangerous to earth on June 2021.
NASA on that has announced that SpaceX will fly its Double Asteroid Redirection Test (DART) planetary-defense mission.
The total launch cost for NASA is believed to be estimated at about $69 million.
The Double Asteroid Redirection Test, or DART, is a spacecraft designed to determine whether an asteroid can be redirected with a high-speed collision.
DART planetary-defence mission will be will launched by the Falcon 9 rocket from Vandenberg Air Force Base in California in June 2021.
The spacecraft will slam into "Didymoon," the 540-foot-wide (165 meters) satellite of the near-Earth asteroid Didymos which is located at about 4 million miles from Eart in October 2022.
Scientists will observe the impact with telescopes and measure the change in the Didymoon's orbit around the asteroid.
DART
Double Asteroid Redirection Test (DART) is a planned space probe that will demonstrate the kinetic effects of crashing an impactor spacecraft into an asteroid moon for planetary defense purposes. The mission is intended to test whether a spacecraft impact could successfully deflect an asteroid on a collision course with Earth.