Updated By: LatestGKGS Desk
France: Mitchell Pont has the world's largest collection of private fighter jet plane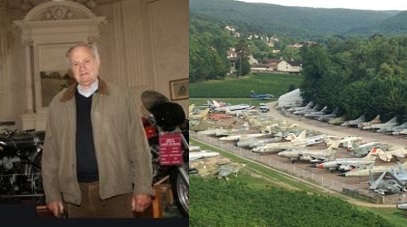 France: Mitchell Pont has the world's largest collection of private fighter jet plane
French former pilot Mitchell Pont (87-year-old) who lives in the town of Beyoncé, France is the owner of the world's largest private fleet of 110 fighter jet planes.
The United States' most modern F-16 fighter jet has also been added to the fleet of Mitchell Pont aircraft's list. He is the only person in the world who has such a large number of jet airplanes.
As per the Global Fire Index 2019, Mitchell Pont this collection of fighter planes claimes to have more in numbers than Bangladesh and Sri Lanka.
Statistics suggest Bangladesh has a total of 90 fighter jet planes while Sri Lanka has a total of 76 fighter jet planes including helicopters.
Mitchell Pont was a pilot by profession, he has placed all the aircraft in his garden, however, none of these aircraft are in flight condition.
Every year around 40 thousand tourists reach to see them. With this income, he buys a new fighter plane. Which can increase the number of aircraft in their fleet
Mitchell Pont also claimed his name in the Guinness Book of World Records.
Mitchell started the work of stocking fighter jets in the year 1980. Whereas he got the first fighter aircraft as a reward for winning a race from the army.