Updated By: LatestGKGS Desk
Composite Water Management Index (CWMI 2.0): Gujarat Tops - Rankings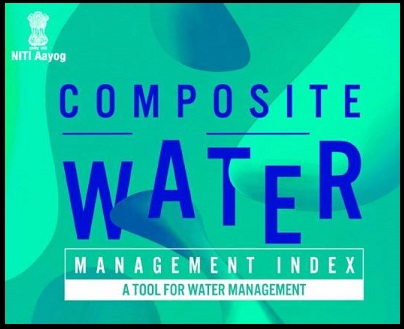 2019 Composite Water Management Index (CWMI 2.0): Gujarat Tops - Rankings
NITI Aayog released a report on the 2.0 Composite Water Management Index (CWMI 2.0) in which Gujarat topped for the year 2017-18.
CWMI report shows on an average, 80% of states assessed on CWMI 2.0 over e last three years have improved their water management scores, with an average improvement of +5.2 points.
CWMI 2.0 Rankings
Gujarat was ranked first in the reference year (2017-18), followed by Andhra Pradesh, Madhya Pradesh, Goa, Karnataka, and Tamil Nadu.
In North-Eastern and the Himalayan States: Himachal Pradesh was adjudged number 1 in 2017-18 followed by Uttarakhand, Tripura and Assam.
Union Territories: They have for the first time submitted their data. Puducherry was declared as the top ranker.
Incremental change in index (over 2016-17 level): Haryana holds number one position in general States and Uttarakhand ranks at first position amongst North Eastern and the Himalayan States.
About CWMI
Composite Water Management Index (CWMI) was launched by NITI Aayog in 2018 as an important tool to assess and improve the performance of States/ UTs in the efficient management of water resources.
CWMI aims to instill a sense of cooperative and competitive federalism among the states. It first ever attempts at of creating a pan-India set of metrics that measured different dimensions of water management and use across the lifecycle of water.
CWMI ranks states/UTs based on water data collection exercise conducted by NITI Aayog in partnership with Union Ministry of Jal Shakti, Union Ministry of Rural Development and all States/UTs.