Updated By: LatestGKGS Desk
INS Khanderi Attack Submarine Commissioned Into Indian Navy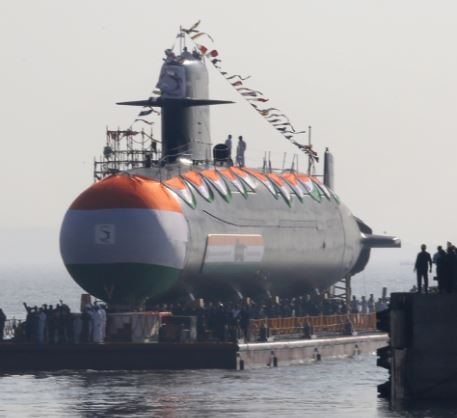 INS Khanderi Attack Submarine Commissioned Into Indian Navy: Details, Features, Capabilities, Significance
Defence Minister of India, Rajnath Singh commissioned India's second Scorpene-class attack submarine INS Khanderi into the Indian Navy on 28th September 2019, at the Mazagon Docks in Mumbai, Maharashtra.
INS (Indian Navy Ship) Khanderi motto is 'Akhand Abhedya Adrishya' that implies unity of the crew and its stealth capabilities. Its name and features are inspired by the fish named 'Kanneri', found in the Arabian Sea.
INS Khanderi is a diesel-electric fully automated submarine which was launched in August 2017, it is the second class attack submarine under Project 75.
INS Khanderi got manufactured by Mazagon Dock Shipbuilders Limited (MDSL) in Mumbai.
INS Khanderi's state-of-the-art features of the submarine include superior stealth and the ability to launch a crippling attack on the enemy using precision-guided weapons.
INS Khanderi is capable of saving oxygen availability and can stay underwater for long periods.
INS Khanderi can reduce its noise when it is under the sea and can roll-in a crew of 36 members.
INS Khanderi comprises a set of missiles and torpedoes along with a sonar suite which helps the submarine to detect the enemies from a long distance and classify its targets.
INS Khanderi is 67.5 meters long and 12.3 meters tall. It is permanently magnetized propulsion motor is powered by 360 battery cells. Each battery cell weighs 750 kg.