GK Questions 7th July 2019 General Knowledge, Current Affairs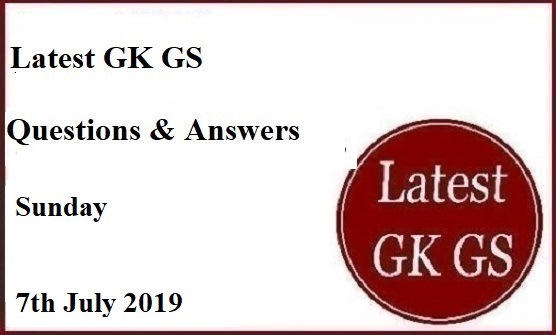 Daily GK Questions Sunday 7th July 2019 General Knowledge, Current Affairs
1. Rajasthan's which city was added to UNESCO World Heritage List?
Ans:- Jaipur
2. What date Women's World Cup 2019 Finals Played?
Ans:- 7th July 2019

3. Who became first cricketer to score 5 centuries in a World Cup and most 6 centuries in the total world cup matches?
4. Who became second fastest Indian to take 100 ODI wickets after Mohammad Shami?
5. In Union Budget 2019 which type of farming proposal initiated to double farmers income by 2022?
Ans:- Zero Budget Farming

6. Which Pakistani Cricketer announces retirement from ODIs on 6th July 2019?

Ans:- Shoaib Malik

7. What will be ISRO's new commercial arm?
Ans:- New Space India Limited (NSIL)

8. As per Union Budget 2019, a new coin of which denomination to be introduced soon?
Ans:- Rs 20 coin

9. When was World Zoonoses Day 2019 observed?
Ans:- 6th July
10. When is International Day of Cooperatives celebrations held across the world?
Ans:- 6th July