GK Questions 11th July 2019 General Knowledge, Current Affairs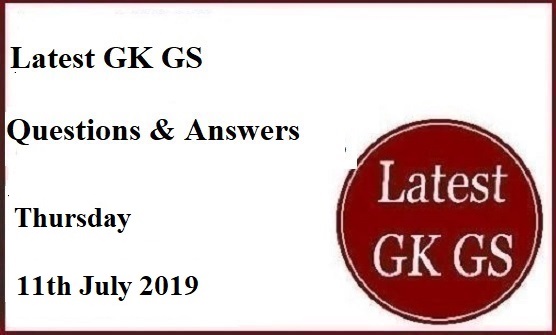 Daily GK Questions Thursday 11th July 2019 General Knowledge, Current Affairs
1. Who was appointed as Director General (DG) in Directorate General of Civil Aviation (DGCA)?
Ans:- Arun Kumar
2. India lost ICC Cricket World Cup 2019 semifinals against which team?
Ans:- New Zealand

3. According to the latest report of UNESCO one in four children in which country will remain uneducated by 2030?
4. Italy's which hills included on UNESCO World Heritage list?
5. DRDO carried out 3 tests of which missile in a single day in Pokhran?
6. Which Tennis women player was fined USD 10,000 for Damaging Wimbledon Court?

Ans:- Serena Williams

7. Which car company launched India's first fully electric SUV in New Delhi?
8. Rajya Sabha passes a resolution imposing 200% customs duty on goods from which country?
Ans:- Pakistan

9. Which state has recently announced a solar award in the name of Bharat Ratna M. Visvesvaraya?
Ans:- Karnataka
10. Which helicopters arrived at the Mundra port in Gujarat for the Indian Air Force?
Ans:- Chinook
11. The RBI recently finalized a 'Three Year Roadmap' to improve supervision and regulation. What is the name of the roadmap?
Ans:- Utkarsh 2022
12. When was the World Population Day 2019 celebrated around the world?
Ans:- 11th July 2019