Updated By: LatestGKGS Desk
GK Questions 27th July 2019 General Knowledge, Current Affairs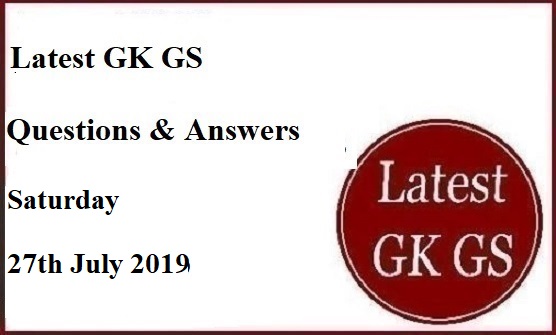 Daily GK Questions Saturday 27th July 2019 General Knowledge, Current Affairs
1. Which among the following cricketers will retire after Sri Lanka's first ODI against Bangladesh on July 26?
Ans: Lasith Malinga
2. India launched which first-ever space war exercise from 25 to 26 July 2019?
Ans: IndSpaceEx
3. Who has been appointed as 25th Chief Minister of Karnataka?
Ans: B.S Yediyurappa
4. What is the rank of India in the latest FIFA rankings?
5. Which research institute has recently found that a typical apple carries more than 100m bacteria inside it?
Ans: Graz University of Technology

6. Till what date Budget Session 2019 has been extended?
Ans: 7 August 2019

7. Which of the following has been announced as the official sponsor of Team India?
Ans: Byju

8. Which Union Minister will head the panel to examine and suggest ways to prevent workplace sexual harassment?
9. Which Indian Naval Ship is participating in the Russian Navy Day Parade?
Ans: INS Tarkash
10. When was the 20th anniversary of Kargil Vijay Diwas observed?
Ans: 26th July 2019
11. IIT Kharagpur team developed which app for elderly people in an emergency?
Ans: CARE4U App
12. What is the name of China's first commercial rocket got launched?
Ans: Hyperbola-1