Updated By: LatestGKGS Desk
Ocean Deoxygenation Historical Importance, Impact on Global Warming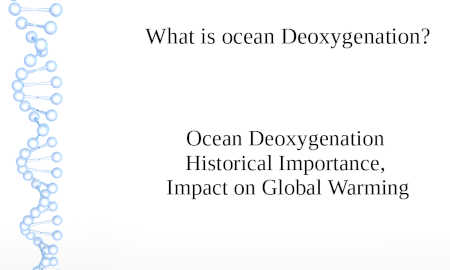 What is ocean Deoxygenation?
The ocean has evolved in various oxidation states throughout the evolution of the Earth. 3,85 billion years ago this ocean had a high anoxic (no oxygen), had a moderate oxygen level of up to 0.54 billion years ago, and eventually now have very strong oxygen content at present time.
Deoxygenation receives less attention than other climate change impacts, such as ocean acidification and rising water temperatures that have triggered the worldwide bleaching of coral reefs. But it is emerging as a major threat to the ocean. Evidence is mounting that oxygen is declining in the modern ocean.
Estimates are for a 1-2% decrease (i.e. 2.4 -4.8 Pmol or 77-145 billion tons) of the global oxygen inventory since the middle of the last century.
The depletion of ocean oxygen remains unclear, as global warming remains expected to further decrease oxygen solubility in warmer waters actively and indirectly as ocean conditions shift and limit the circulation of seawater.
Latest Ocean Updates