Updated By: LatestGKGS Desk
ADNOC and ISPRL sign MoU to store crude oil at Padur facility in Karnataka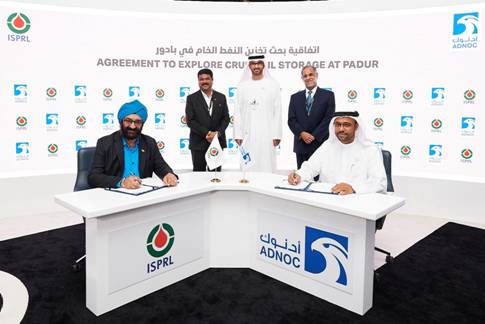 Adnoc signed a memorandum of understanding with ISPRL for the underground storage of crude oil in Padur.
Adnoc, National Oil Company of Abu Dhabi, signed a Memorandum of Understanding (MoU) with the ISPRL on November 12, 2018, in Abu Dhabi to take advantage of the underground storage facility for crude oil storage by the Indian company Indian Petroleum Reserve Limited (ISPRL).
There is a capacity of 2.5 million crude oil storage in underground reserves of ISPRL.
Under the MoU, crude oil will be stored for emergency needs in this underground repository.
Prior to that, Adenoc had sent crude oil to the underground reservoir facility at ISGLOR's ISPRL.
5.86 million barrels of crude oil will be stored on behalf of Adnoc in Mangalore.
Abdullah Salem Al Dahari, director of Marketing, Sales and Trading Department of Adnoc and Abroad from the Abu Dhabi International
Petroleum Exhibition and Conference on the MoU was signed by HPS Ahuja, Managing Director of ISPRL.

India is a big oil market for Saudi Arabia.
In such a situation, the partnership between India and Saudi Arabia's oil companies will be shared with each other's oil resources, as well as sharing experiences related to this area.
The agreement will allow Adnoc to export large quantities of crude oil to India, which will fulfil India's growing demand.

With this agreement, ISPRL will have an opportunity to find opportunities for crude oil storage in Karnataka, in association with Adnoc.
This agreement will work to strengthen the strategic partnership between the United States and the United Arab Emirates in the oil sector.