Updated By: LatestGKGS Desk
Andres Manuel Lopez Obrador becomes 58th President of Mexico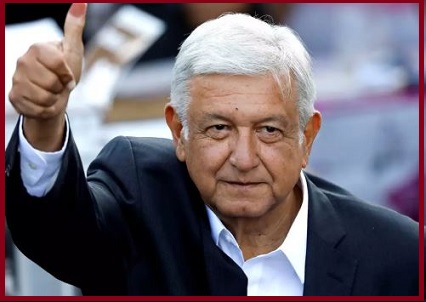 Andres Manuel Lopez becomes 58th President of Mexico: Details, Political Career, Highlights
Andres Manuel Lopez Obrador also called as 'AMLO' is a Mexican politician who became the 58th President of Mexico with immediate effect from 1st December 2018.
Andres Manuel Lopez Obrador (65-years-old) would hold the post of President of Mexico for a term of 6 years.
Andres Manuel Lopez Obrador, during his swearing-in, confirmed his intentions to sell Mexico's official presidential plane and not to live in the presidential palace, Los Pinos and open its doors to public visitors. He also said that he will receive 40 percent of his presidential salary. He has also dissolved the thousands-strong presidential guard, opting instead for a small group of unarmed bodyguards.
Andres Manuel Lopez Obrador pledged to bring about a "radical rebirth" of Mexico to overturn what he called a disastrous legacy of decades of "neo-liberal" governments. He promised to put Mexico's sizeable indigenous minority first in his drive to root out inequality.
Andres Manuel Lopez Obrador started his political career in 1976 as a member of the Institutional Revolutionary Party (PRI) in Tabasco and eventually became the party's state leader.
In 1989, he joined the Party of the Democratic Revolution (PRD) and was the party's 1994 candidate for Governor of Tabasco. He was the national leader of the PRD between 1996 and 1999 and in 2000, he was elected as the Head of Government of Mexico City.
This was his third Presidential election.
MEXICO
Capital: Mexico City (Also Largest City)
National Language: Spanish
Currency: Peso
President: Andres Manuel Lopez Obrador (Since 2008)