GK Questions 4th July 2019 General Knowledge, Current Affairs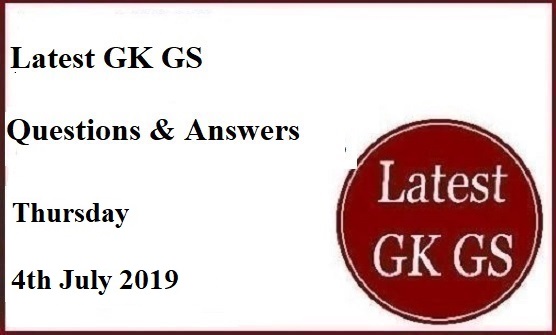 Daily GK Questions Thursday 4th July 2019 General Knowledge, Current Affairs
1. Who was named as the new interim president of congress party after resignation of Rahul Gandhi?
Ans:- Motilal Vora
2. Which Indian Cricketer Ambati Rayadu announces retirement from International Cricket on 3rd July 2019?
Ans:- Ambati Rayadu

3. The Supreme Court has asked which state's government to deposit Rs 100 crore fine imposed by NGT?
4. Which nation has declared the Balochistan Liberation Army as a global terrorist organization?
5. Ursula von der Leyen has been nominated to lead EU Commission. She belongs to which nation?
6. Which Indian department is taking trails of Tri-NETRA technology?

Ans:- Indian Railways

7. Which state declared Yeoman as the state's butterfly?
8. PM Narendra Modi constituted a High-powered Committee of Chief Ministers for 'Transformation of Indian Agriculture'. The Committee is headed by whom?
Ans:- Devendra Fadnavis
9. When is Chandrayaan 2 to be launched?
10. When is World Sports Journalists Day celebrated every year?
Ans:- 2nd July