Updated By: LatestGKGS Desk
Sansad Ratna Awards Awarded To Parliament Members: Details, Winners Names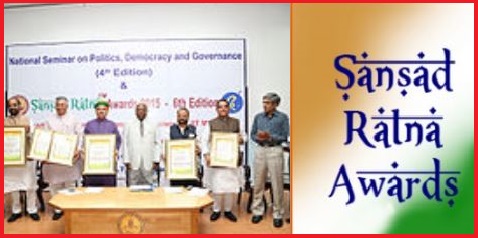 Sansad Ratna Awards Awarded To Parliament Members: Details, Winners Names, Achievements
The Governor of Tamil Nadu Banwarilal Purohit presented the Sansad Ratna Awards on 21 Jan 2019 in Chennai. The recipients under various categories include:
MP from Cuttack, Odisha, Bhartruhari Mahtab was honored for his performance in initiating debates.
MP from Hamirpur, Himachal Pradesh, Anurag Singh Thakur received Jury Committee Special award in the Lok Sabha for his distinguished performance.
Standing committee on finance headed by M Veerappa Moily was selected for outstanding performance among the Parliamentary Standing Committees.
MP from Kollam, Kerala, N K Premachandran, was selected for his performance in initiating debates.
MP from Baramati (Maharashtra) Supriya Sule was honored in overall tally, questions and women MPs categories.
MP from Godda, Jharkhand, Nishikant Dubey was awarded for his outstanding performance in private member bills.
MP, Rajeev Shankarrrao Satav was chosen for his outstanding performance among the first-time parliamentarians.
MP from Maval, Maharashtra, Shrirang Appa Barne was selected for his outstanding performance.
MP from Kolhapur, Dhananjay Bhimrao Mahadik was selected for his performance under questions and overall tally category.
Heena Vijaykumar Gavit who raised 1,059 questions in the Lok Sabha and holds an attendance of 82 percent was selected for her outstanding performance.
Rajani Patil was selected as the topper in overall tally among the retirees of Rajya Sabha.
Ananda Bhaskar Rapolu, MP from Telangana was selected for debates among the retirees of the upper House.
About Sansad Ratna Award
Established: 2010
Founder: Prime Point Foundation and e-magazine Pre-Sense
The awards are given on behalf of "civil society" through a transparent selection process by a Jury committee of eminent Parliamentarians, based on the data on various performance parameters.