GK Questions 10th June 2019 General Knowledge, Current Affairs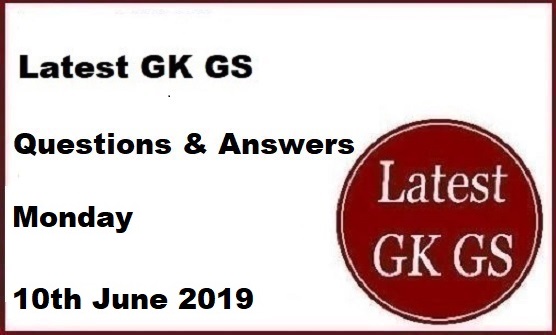 Daily GK Questions Monday 10th June 2019 General Knowledge, Current Affairs
1. Modi 2.0 Cabinet approved which pension scheme for farmers?
Ans:- Pradhan Mantri Kisan Pension Yojana
2. I&B Ministry instituted which award from the year 2019 onwards?
Ans:- Antarashtriya Yoga Diwas Media Samman
3. Modi 2.0 Cabinet extends which scheme to all farmers?
Ans:- Pradhan Mantri Kisan Samman Nidhi (PM-KISAN) Scheme
4. Recently, ISRO will conduct which first-ever exercise in July 2019, in competition with China?
Ans:- Simulated Space Warfare

5. Where PM Narendra Modi will lead to the main event of International Yoga Day on 21st June 2019?
Ans:- Ranchi

6. Which country's airline was named as World's Most Punctual Airline?
Ans:- SriLankan Airlines
7. When is World Oceans Day observed?
Ans: -June 8th
8. Indian PM Narendra Modi conferred with the highest civilian award 'Izzudeen' of which country?
Ans:- Maldives

9. NASA had Invited business ventures for which Tourism?
Ans:- International Space Station Tourism

10. China launched which Space Rocket from the Yellow Sea for the first time?
Ans:- Long March 11
11. IAF signs Rs 300 crore deal to procure SPICE 2000 bombs from which country?
Ans:- Israel