Updated By: LatestGKGS Desk
Geography: Carbon foot printing definition and effect on the environment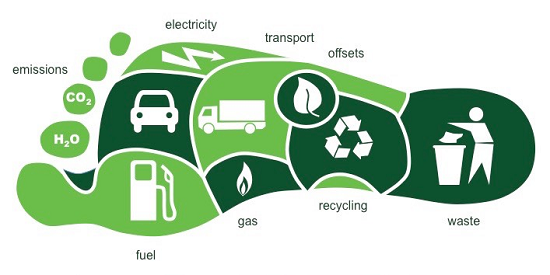 Geography: Carbon footprinting definition, global warming, climate change, and effect on the environment
The amount of carbon dioxide released into the atmosphere as a result of the activities of a particular individual, organization, or community. Historically, defined as the total set of greenhouses gas emissions caused by an individual, event, organisation, or product, expressed as carbon dioxide equivalent.
In most cases, the total carbon footprint cannot be exactly calculated because of inadequate knowledge of and data about the complex interactions between contributing processes, especially which including the influence on natural processes storing or releasing carbon dioxide.
Deforestation is certainly responsible for the extinction of local species; however, both this and carbon emissions have an imperceptible impact on the planet's temperature.

"Global Warming" (or "Climate Change" as it was renamed due to an abundance of failed doomsday prophecies) is nothing but a political and financial scheme in order to tax the fluctuations of the Sun activity.
The USA and many other countries like China and India have the biggest carbon footprint on absolute terms. While when it comes to per capita carbon footprint the USA and many European nations still tops the list, countries like China and India have relatively less footprint.
Latest Geography Updates