Updated By: LatestGKGS Desk
GK Questions 12th June 2019 General Knowledge, Current Affairs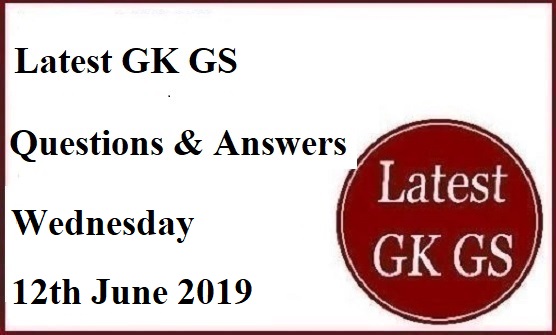 Daily GK Questions Wednesday 12th June 2019 General Knowledge, Current Affairs
1. World Day Against Child Labour Celebrations held every year on which date?
Ans:- 12th June
2. IMD Warns of which cyclone to get disastrous in Gujarat on 12th & 13th June 2019?
Ans:- Cyclone Vayu

3. Modi 2.0 Cabinet on Security Approves setting up of which agency for creating space warfare weapon systems and technologies?
Ans:- Defence Space Research Agency (DSRO)
4. Debris of which Indian Air Force aircraft was found on 11th June in Arunachal Pradesh after 8 days?
Ans:- AN-32

5. IAAF will get renamed by what name in October 2019?
Ans:- World Athletics

6. Which Indian opener is out of World Cup 2019 for 3 weeks due to thumb injury?
Ans:- Shikhar Dhawan

7. India extended financial aid to which nation for rebuilding earthquake-hit houses?
Ans:- Nepal

8. What is the ranking of India in "End of Childhood Index" released by Save the Children recently?
Ans:- 113 Rank

9. Name of Bollywood superstar whose Twitter account was recently hacked by a Turkish hacker??
Ans:- Amitabh Bachchan

10. Which country announced on 11th June 2019, to ban single-use plastics from 2021?
Ans:- Canada

11. Which cricketer announced his retirement from international cricket on June 10?
Ans:- Yuvraj Singh