GK Questions 20th June 2019 General Knowledge, Current Affairs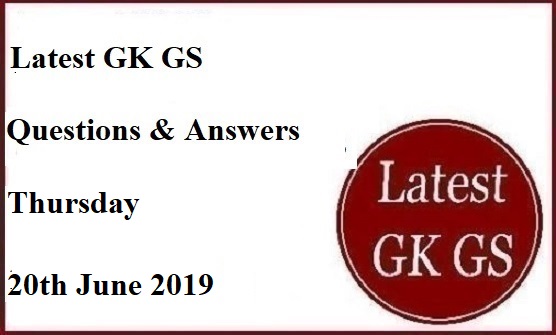 Daily GK Questions Wednesday 20th June 2019 General Knowledge, Current Affairs
1. Who has been named as the new speaker of Lok Sabha?
Ans:- Om Birla
2. When is World Refugee Day observed every year?
Ans:- 20th June
3. Which Senior BJP leader appointed as Bhartiya Janta Party's working President?
Ans:- J P Nadda
4.. How many Indian Institutions were ranked best globally in QS World University Rankings 2020?
Ans:- 23

5. UN Report 2019: India's population to overtake China by which year?
Ans:- 2027

6. What is the name of Facebook's Cryptocurrency which is to be launch in 2020?

Ans:- Libra
7. Which country recently issued tsunami advisory after a 6.8-magnitude earthquake hit the northwest of the country?
Ans:- Japan

8. Which State topped the 2nd edition of the US Green Building Council's (USGBC) list?
Ans:- Maharashtra

9. Which country will host the Conference of Parties of the United Nations Convention to Combat Desertification (UNCCD) in September 2019?
Ans:- India

10. At which place PM Narendra Modi will perform Yoga on International Yoga Day 2019?
11. Which committee has decided to dissolve the Karnataka Pradesh Congress Committee (KPCC)?
Ans:- All India Congress Committee (AICC)

12. When is International Day for the Elimination of Sexual Violence in Conflict observed every year?
Ans:- 19th June