GK Questions 19th June 2019 General Knowledge, Current Affairs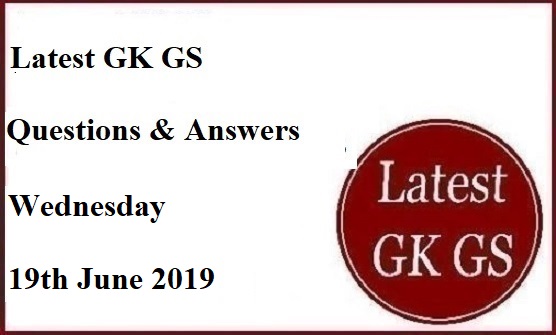 Daily GK Questions Wednesday 19th June 2019 General Knowledge, Current Affairs
1. Who has been named as the new speaker of Lok Sabha?
Ans:- Om Birla
2. When is International Day for the Elimination of Sexual Violence in Conflict observed every year?
Ans:- 19th June
3. Which Senior BJP leader appointed as Bhartiya Janta Party's working President?
Ans:- J P Nadda
4. Encephalitis and heat-wave claims over 100 children deaths in which Indian state?
Ans:- Bihar

5. UN Report 2019: India's population to overtake China by which year?
Ans:- 2027

6. Pakistan Appoints whom as new ISI Chief?

Ans:- Lt Gen Faiz Hameed
7. Who has been named as the Congress leader in Lok Sabha?
Ans:- Adhir Ranjan Chowdhury

8. What is the name of Facebook's new digital currency??
Ans:- Libra

9. Mohamed Morsi, the first democratically-elected President of this nation collapsed and died during a court session on 17 June 2019?
Ans:- Egypt

10. The breakfast menu was changed after 231 years for inmates in the jails of this nation. ?
11. What is the name of India's First "AI-Based" Electric Bike unveiled, which is to be launched in July 2019?
12. When is Sustainable Gastronomy Day observed every year?
Ans:- 18th June